Abortion experience and reviews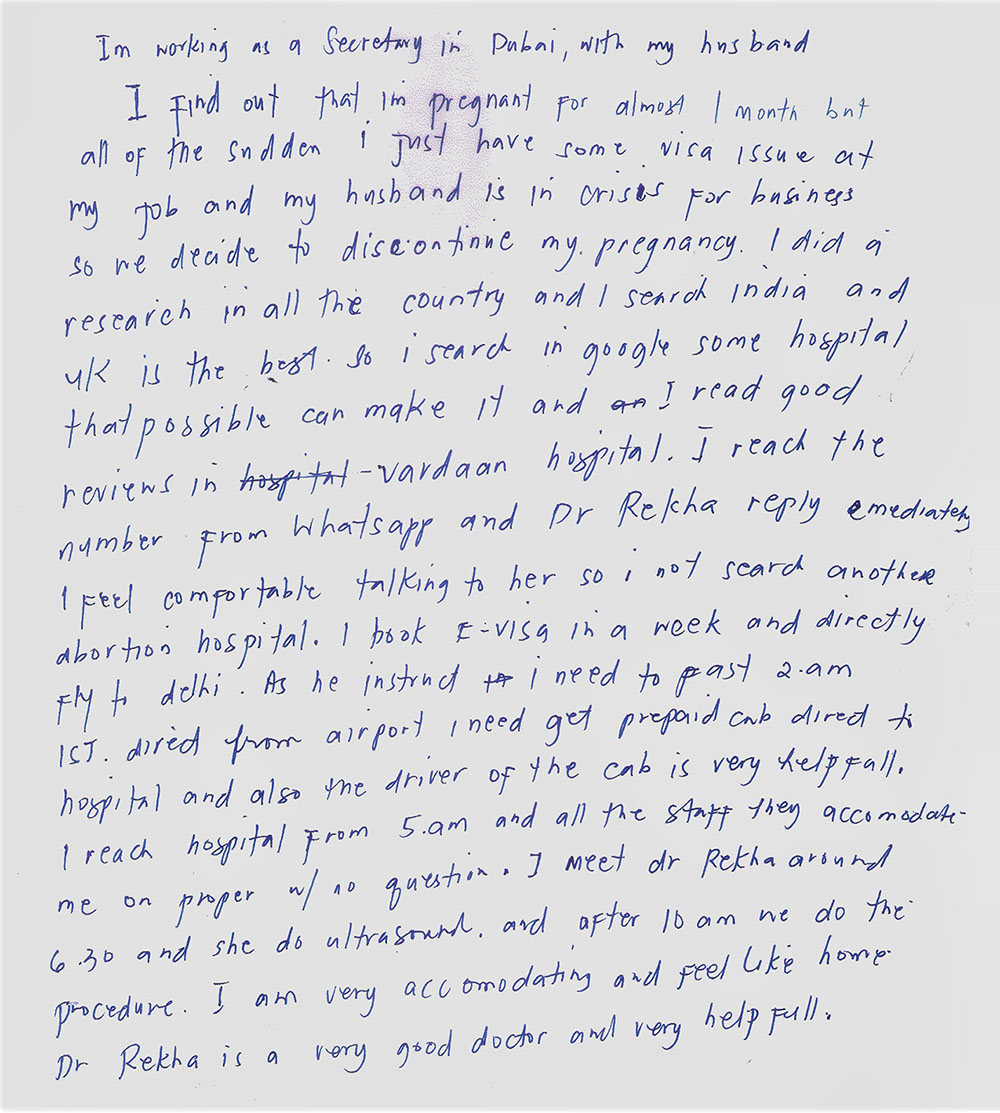 I am working as a secretary in Dubai, with my husband. I find that I am pregnant for almost one month but all of the sudden I just have some visa issue at my job and my husband is in crisis for business so we decide to discontinue my pregnancy. I did a research in all the county and search India and UK is the best. So I search in google some hospital that possible can make it and I read good review in Vardaan Hospital. I reach the number from WhatsApp and Dr. Rekha reply immediately I feel comfortable talking to her so I not search another abortion hospital. I book E visa in a week and directly fly to Delhi. As she instruct I need to fast 2.00 AM IST. Direct from airport I need get prepaid cab direct to hospital and also the driver of the cab is very helpful. I reach hospital from 5.00 AM and all the staff they accommodate me with no question. I meet Dr. Rekha around 6.30 AM and she do ultrasound and after 10.00 AM we do the procedure. I am very accommodating and feel like home Dr. Rekha is a very good doctor and very helpful.
Receive by Philippines girl residing in UAE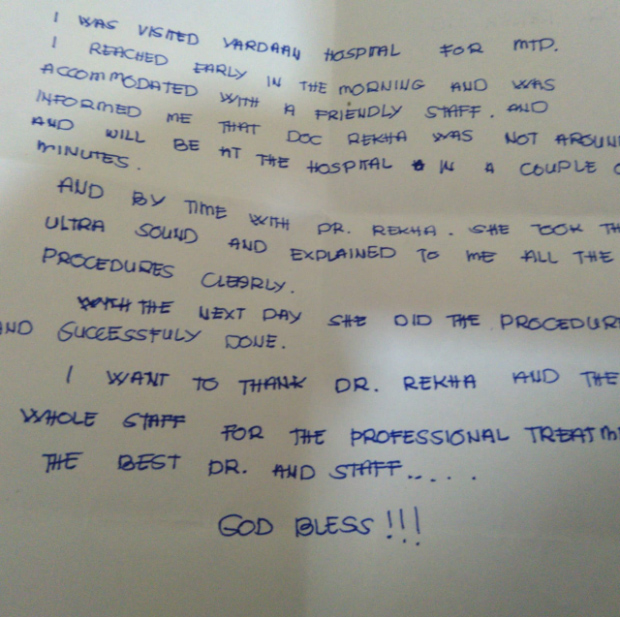 Abortion Review by Philippines Girl
It was a shock to me when I came to know that I was pregnant. I had to take the difficult decision of getting an abortion as I had just started a new career in Dubai after coming from Philippines. With the help from my boyfriend I took the decision of termination of pregnancy but now the dilemma was where to get the procedure done as there were two alternatives, India or UK. I was very comfortable with the Indian doctors in Dubai so I took the decision to come to India.
We discovered Vardaan Hospital for safe and legal abortion on the net and got in touch with the gynaecologist, Dr. Rekha on Whatsapp. She explained the entire procedure in great detail and patiently answered my queries. She suggested that I apply for online visa, which I did. I was able to book my tickets and my hotel within 7 days.
After a comfortable flight, I took a prepaid cab and arrived in the hospital around 6.30 am. Dr. Rekha had already instructed me not to eat after 3.00 am IST. In the hospital I was received by the duty doctor and nurse. They took a blood sample and prepared me for USG. The blood samples were sent for urgent testing. Dr. Rekha arrived around 7.30 am. I felt very comfortable with her as she has a very comforting personality. She did my USG and patiently answered all my queries and prepared me for the procedure. I was posted for the procedure under USG guidance at 10.00 am. By that time the medications started having their effect and I was experiencing slight discomfort in the abdomen.
I was shifted to the Operation Theatre and the pleasing anaesthesiologist greeted me. Operation room is very good. It has all conceivable medical equipments and very quiet and sterile. I was given a short general anaesthesia and I did not even know when my procedure got over. It was an absolutely comfortable feeling. I was shifted to the room and slept peacefully for 2 hours. Later I had some juice. I was helped to change and walk. Within 1 hour I was ready to go back to my hotel.
I could not believe that the procedure was over within 8 hours of my arrival and I was so comfortable!
The staff helped me arrange a cab for sightseeing the next day and from there I drove straight to the airport and reached home safely.
Thanks to them I don't want this to happen to me again but now I know where to go for any medical problem.
Overall the experience was nice.
I thank the staff for all the help and Dr. Rekha for her professional services.
Abortion Review by Canadian Girl of Indian Origin
I am a Canadian girl of Indian origin staying in UAE. For confidentiality purposes, I cannot disclose my name, but writing my experience would definitely help other people, who accidentally have unwanted pregnancy.
My advice is that always has safe sex and use contraceptives so that you do not have to face a difficult situation, like I did!
I was very young when I left Canada and came to UAE .Abu dhabi has a very good social life and while attending one of these parties I got physically involved and later discovered that I was pregnant!
I confided in my friends and came to know that in UAE, it is a crime for an unmarried girl to get pregnant. Also my parents would be shocked to hear this. Going to Canada or UK was out of question for me.
I searched for options. I did an internet search. I contacted my friends who were in a similar situation. Most of them had been to India. They gave me contacts and one of them strongly recommended Vardaan hospital in Delhi where legal abortion procedure is available. I was told that the procedure is possible in one day. That's what I wanted.
I emailed them and in no time they gave me the Whatsapp no.of Dr. Rekha. She answered all my questions very promptly and clearly including the total expenses.
I connected for the visa at the Indian consulate and was allowed single entry visa for India in 3 days time. I booked my tickets and on an Emirates flight to Delhi. I took a prepaid cab from airport as advised. The cab was comfortable and was value for money.
I was fasting as advised by Dr.Rekha .As soon as I reached the hospital, I was greeted by the courteous staff. The staff seemed to be familiar with the steps for procedure and promptly conducted my blood tests and prepared me for USG.
I met Dr. Rekha, a very pleasant and confident lady doctor. She explained the procedure to me and I was posted for the procedure at 10.00am.
The operation theatre was nice and clean and fully equipped. As I was travelling alone, I had all sorts of wild thoughts coming in my mind, but was put at ease by the reassuring doctors A list was made of my belongings and valuables and kept in safe custody.
I don't even know when the procedure was completed. I woke up in my room. I stayed there for 3 hours and was given juice after the procedure.
As I was to travel the next day I was advised by Dr. Rekha to continue staying in the hospital. In the evening, when I felt all right I was escorted to the local market by the staff, where I did some shopping. My Indian friends had also asked for some sweets which I bought.
I want to specially mention the human touch, Dr. Rekha gave me. Actually while shopping I finished all my Indian currency and had no money left for the cab. She promptly paid the cab driver and refused to take foreign currency in exchange. God bless her.
We are still in touch on Whats app and it is a great feeling.
British expat
UAE
Sonam K January 2017
I am a Bhutanese girl. I came from Abu Dhabi to Vardaan Hospital as I suspected that I was pregnant. I appreciate the honest opinion given by you that I was not pregnant but I had hormonal problems. You gave me sincere advice and appropriate medicines and I am fine now. Thanks for not doing any procedure on me and saving me money. Thanks again Dr Rekha for your professional approach
Abortion and hospital review by English Expat in UAE
I am an English expat woman living in dubai, I recently visited vardaan hospital for termination of pregnancy,when I arrived at the hospital , I was told to wait in the waiting area whilst they put clean sheets onto my bed then I was able to rest in there with my partner until my procedure time.The staff were very kind and I would recommend this place to any woman who are in the same situation as I was.
I would also add that last time few years ago I had a similar problem and I landed in a country where after reaching there I found that the procedure was not legal. I had to pay a lot of money and the procedure was performed in a unauthorised place.Please ensure that you go to a proper place