Abortion Procedure Experience and Reviews in Delhi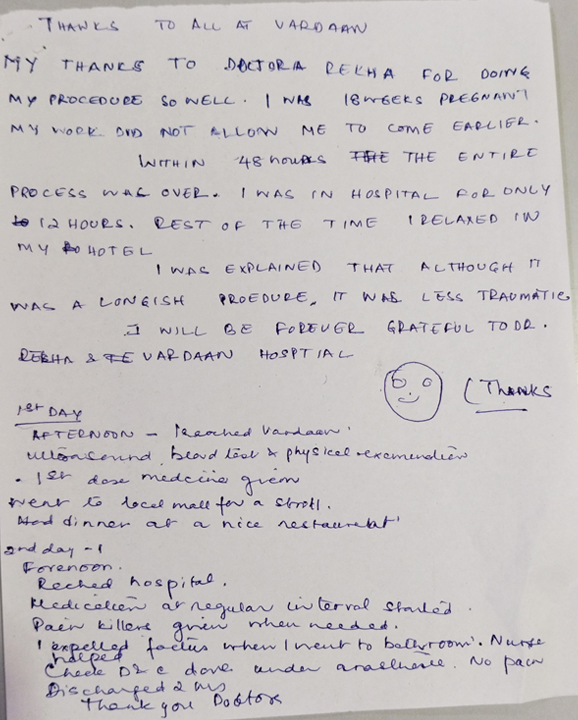 My thanks to Doktor Rekha for doing my procedure so well. I was 18 Weeks pregnant. my work did not allow me to come earlier.
Within 48 hrs the entire process was over. I was in Hospital for only 12 hrs. Rest of the time I relaxed in my hotel.
I was explained that although it was a longish procedure, it was less traumatic. I will be forever grateful to Dr. Rekha & Vardaan Hospital Ist day afternoon I reached Vardaan. Ultrasound, blood test and physical examination was done. 1st dose of medication given. I went to the local mall for a stroll, had my dinner at a nice restaurant.
I went to the hospital again. They started medication the next day. Medicines were given at regular intervals. I had pain (controlled by pain killers)bleeding, loose motions etc. When I went to the bathroom, I expelled the fetus. With help of Nurse Check D and C was done under General anesthesia. No pain. Discharged in 2 hours.
Review for UAE Patients: 28 October 2022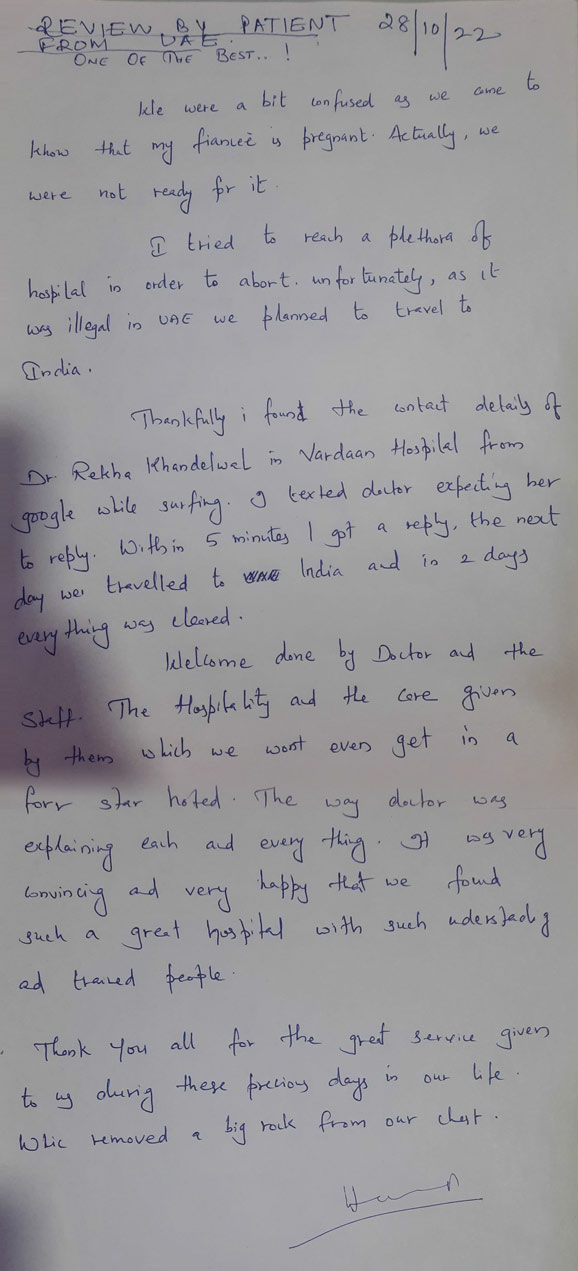 Review for UAE Patients: 04 July 2022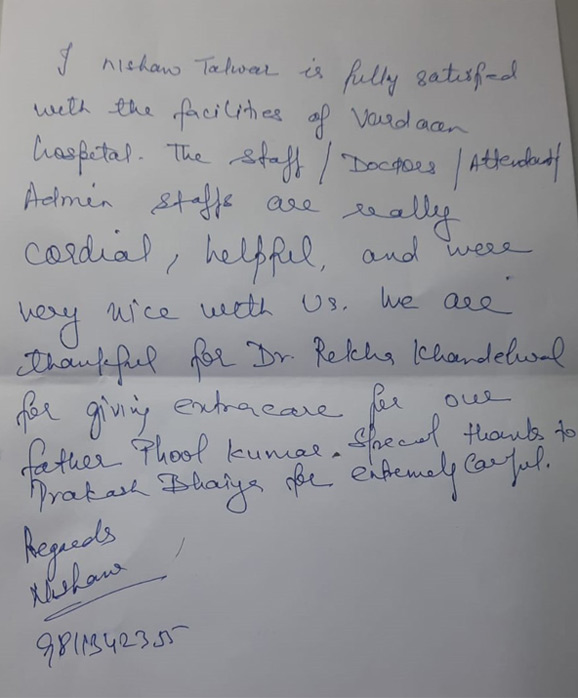 Review for UAE Patients: 08 Feb 2020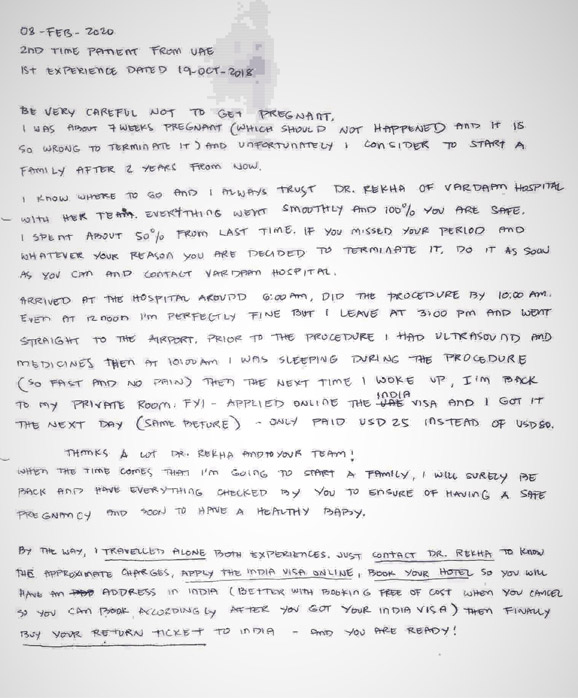 I was about 7 weeks pregnant (which should not happened and it is so wrong to terminate it) and unfortunately I consider to start a family after 2 years from now.
I know where to go and I always trust Dr. Rekha Khandelwal of Vardaan Hospital with her team. Everything went smoothly and 100% you are safe. I spent about 50% from last time. If you missed your period and whatever your reason you are decided to terminate it, do it as soon as you can and contact Vardaan Hospital.
Arrived at the Hospital around 6:00AM, did the procedure by 10:00AM. Even at 12 noon I'm perfectly fine but leave at 3:00 PM and went straight to the airport. Prior to the procedure I had ultrasound and medicines then at 10:00 AM I was sleeping during the procedure (so fast and no pain) then the next time I woke up I'm back to my private room. FYI – applied online the India visa and got it the next day (same before) only paid USD 25 instead of USD 80.
Thanks a lot Dr. Rekha Khandelwal and your team:
When the time comes that I'm going to start a family, I will surely be back and have everything checked by you to ensure of having a safe pregnancy and soon to have a healthy baby.
By the way, I travelled alone both experiences. Just contact Dr. Rekha Khandelwal to know the approximate charges, apply the India visa online , Book your hotel so you will have an address in India (better with booking free of cost when you cancel so you can book accordingly after you get your India visa) then finally buy your return ticket to India- and you are ready.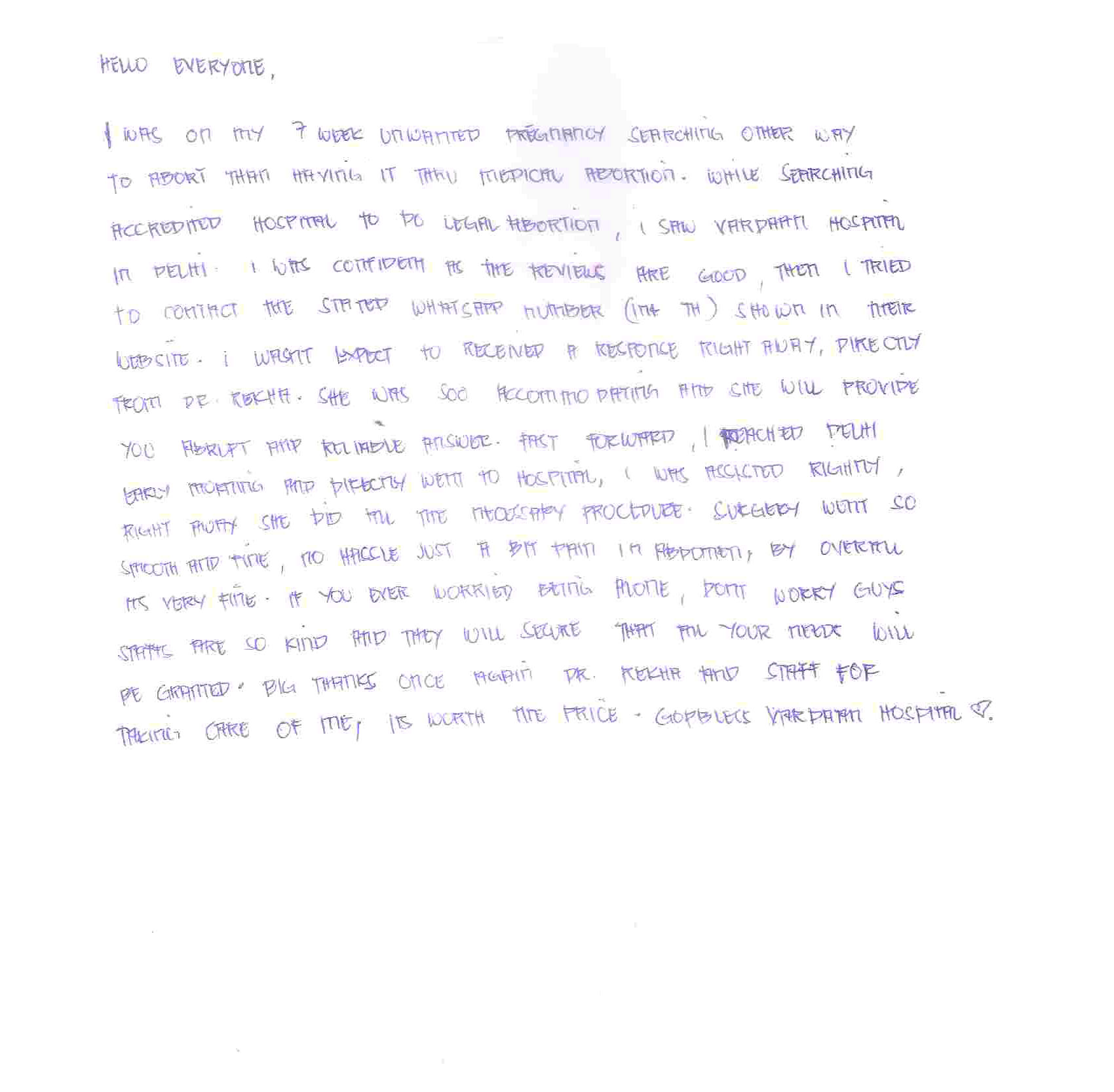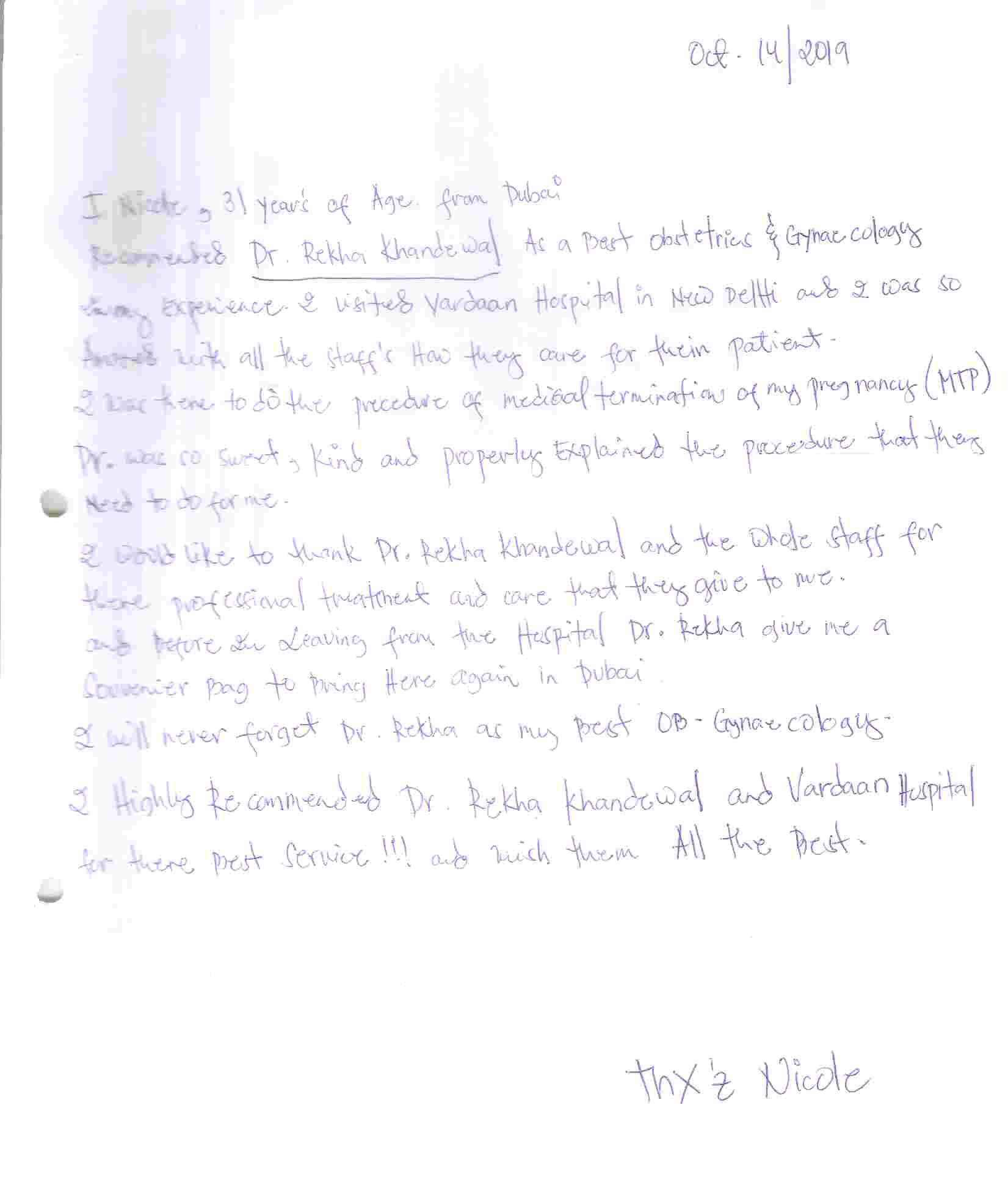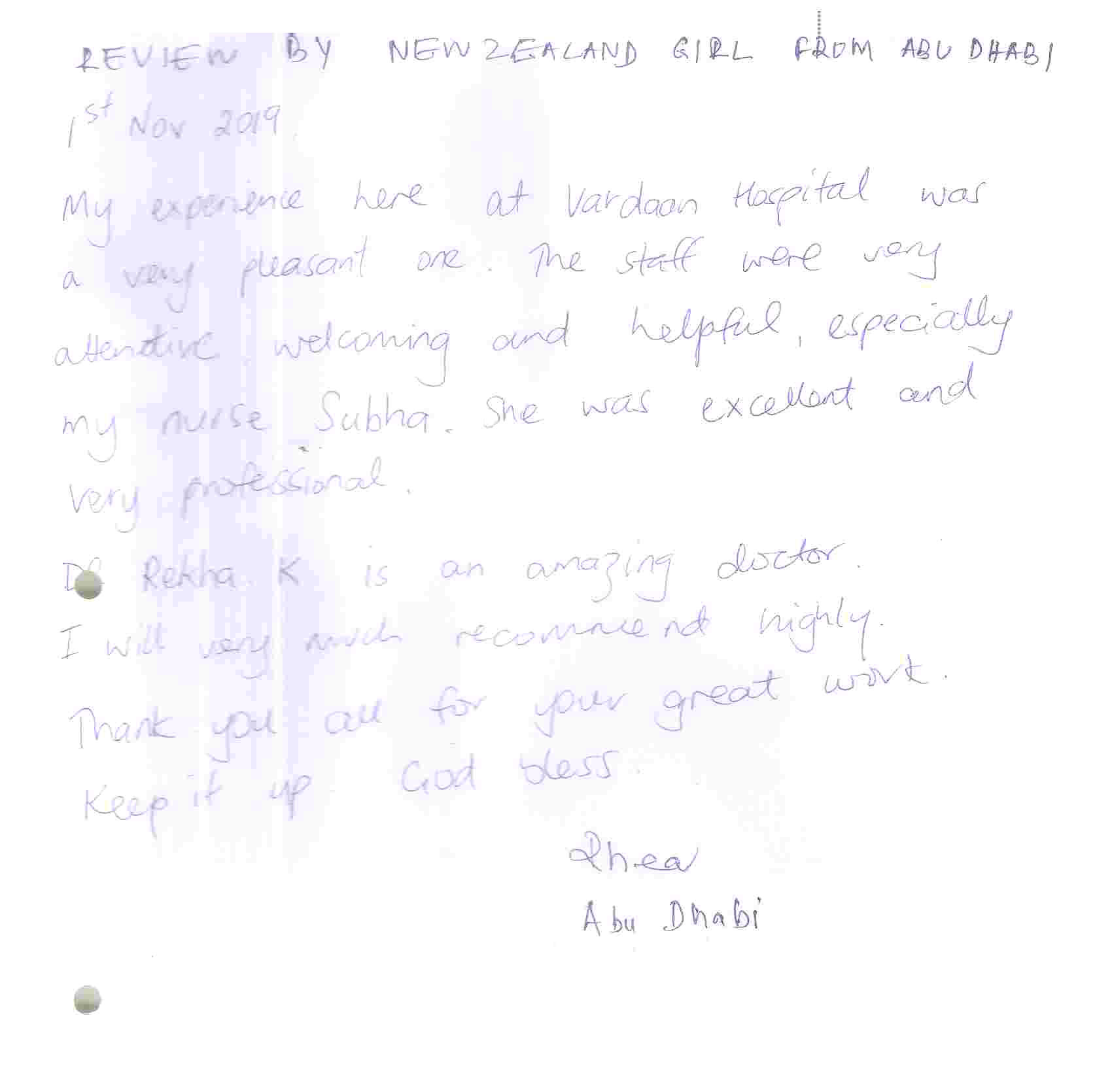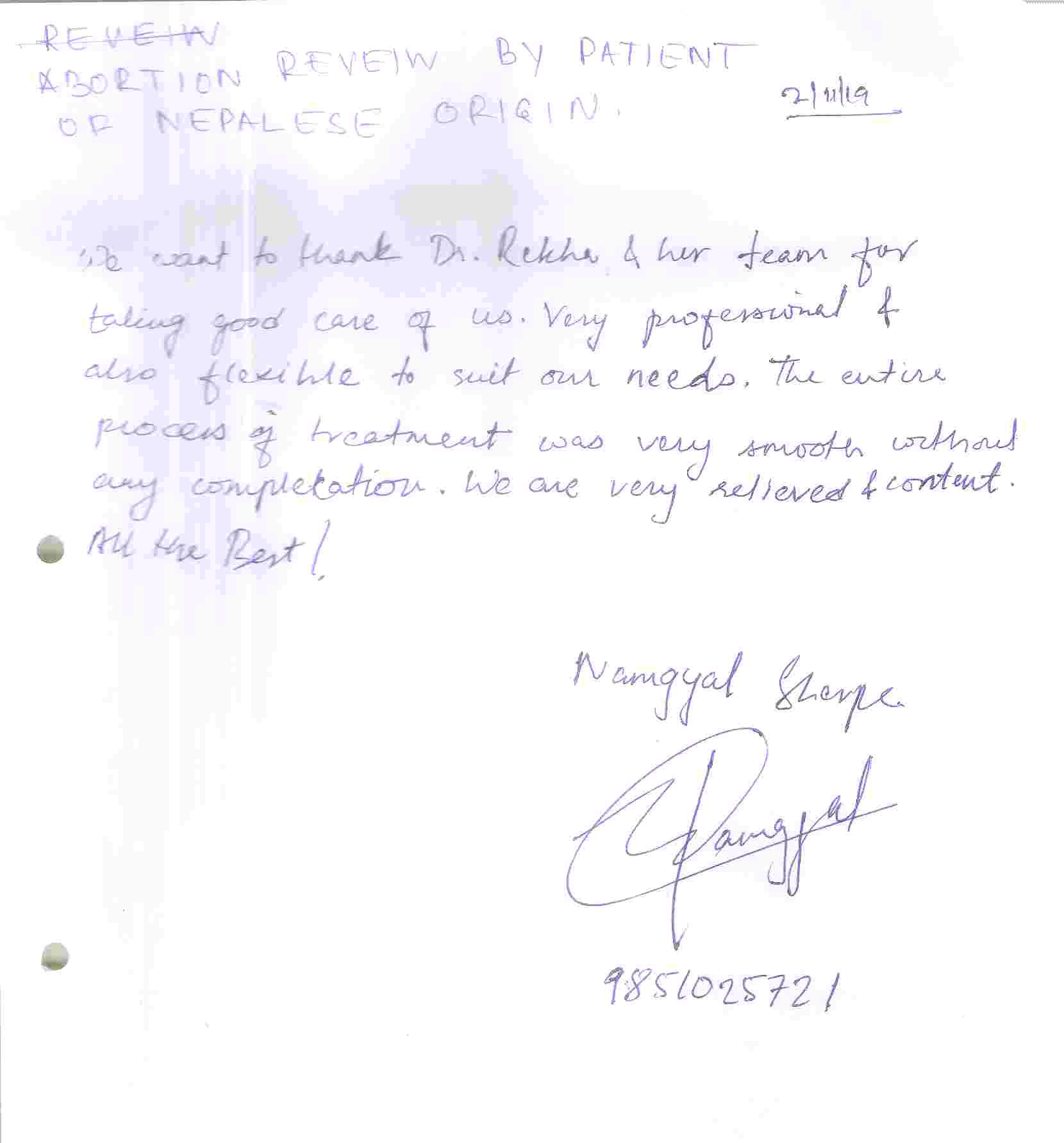 Review by patient from UAE. 19th Oct 2018
I'm very grateful to Dr Rekha Khandelwal for her prompt assistance, knowing Dr Rekha is one of the best doctors. You will feel safe. As a result, everything went well and procedure went a bit smoother and easier. Again thank you to Dr Rekha other doctors and nurses along with their team from Vardaan hospital. Fyi my case was quite complicated but they handled it properly so I appreciate it a lot.
This is to emphasize that Dr Rekha is not just an expert, she is also caring and ensure to build and strengthen an important relationship when patient has a concern and needs some reassurance or has a question about what is best for health. If I need to give a rate 1-5 and 5 being the highest rating then I will give a rating of 10. You can trust and you will be surely in good hands.
1 to 5 rating scale survey- 5 is excellent and 4 is satisfied 3 is ok.
Ease of contact with Dr Rekha 5,
- Her WhatsApp number shown on their website.
-She replies immediately and guides you accordingly.
Quality of care 5
-Doctor Rekha tries to understand what underlies my concerns
-After our first meet, she made sure to have a good conversation
-Before and after procedure explained all details including pros and cons
-Attend, caring and understanding.
Access to care and communication 5
-Doctor and service provider is available round the clock.
Courtesy of the receptionist and business staff 5
-They know in advance that I'm coming and for what
-Explained well about the forms.
-Courteous and willing to assist with a smile.
Care from nurses and medical assistants 5
-Bell provided on your bed, just press it and someone will come
-They constantly come to your room and check on you then to ask if you feel pain and to ensure you are okay
-There is no bell in the washroom but when I shouted for help, they heard me
-Food and snack are provided, juice, tea
-They provide someone to drive or accompany you free of cost if required
-They help to book a cab if you need.
Clarity of instructions 5
-They speak English
-Explained well the instruction
-Provided further details if you have questions.
Hospital Room 5
-Private room like a hotel standard room with 1 bed, 1 sofa, 1TV, 1 Refrigerator, AC and Fan available and of course your private bathroom( Good quality facewash towel, soap, tissue)
-Cleaners came couple of times to clean your washroom, room area and collect your room service tray.
-I'm very satisfied and had a very comfortable stay.
Payment 4
-Ask first the approximate amount so your case or payment is ready
-Payment first before procedure
-Deposit to be paid as soon as you filled out the forms
Dr Rekha even made sure to keep in touch with her after discharge to ensure my safety she cares!!!
Overall I'm very happy their service and highly recommended.
Experience of Zimbabwe national working in UAE
Being too scared to know whether I am pregnant or not, I delayed doing the PT because I don't feel any signs nor changes on my body. In fact, I lost more than 2kg in 2 months that's why I am confident that my period has just been delayed. Through an advice of a friend, I took the PT, and I found out that I am pregnant. Because I am living in UAE, I didn't take the chance to have the ultrasound to know the exact age and condition of my pregnancy. I know it is wrong as per my religion and my belief, but at that moment, I feel like that's the right decision to make given that I am not yet ready for that big responsibility. Online I found Vardaan Hospital and Dr. Rekha Khandelwal WhatsApp number. I immediately get in touch with her and she answered all my queries. The weekend thereafter, I immediately fly to Delhi and arrived early Friday morning. I took uber going to hospital, where I met the accommodating staffs, who assisted me during the ultrasound outside the hospital where we found out that I am 15 weeks 3 days pregnant. I met Dr. Rekha personally when we come back. Just like the review of others, she is very good and compassionate. She explained everything to me regarding the procedure and did several blood and urine tests. Scared, hungry and sleepless as I am that day my BP was very high so we cannot proceed with the procedure immediately. We have to wait till my BP drop down but still, it's consistently high till afternoon time. So she sent me to the heart clinic for an Eco cardiology test for the following day to check if everything is okay with my heart before doing the procedure for my safety. Once everything is cleared, we started the process. It took me more than 24 hrs to finish the procedure, as my uterus is not opening/ dilating even if they have already given me several shots and dosages of medicine. So she has no choice but to do the surgery evacuation without opening abdomen. since I have already spent two nights in the hospital waiting for the meds to take effect. I was too scared but thank God, Dr. Rekha and the staff, it all went smoothly. I didn't feel any pain hours after waking up post the procedure. I just vomited and had dizziness.
I am not encouraging or influencing anyone to do the same thing that I did, that is terminating the pregnancy on the second trimester. If you are not yet ready for it and you accidentally have it, better to terminate it in an early stage of your pregnancy so that you will not experience the stress, pain and troubles that I have experienced during my procedure. When I was in hospital ,another Pilipino girl was there .She sensibly arrived when she was 6 weeks pregnant. She had a smooth procedure and went back the same night.
I would like to thank Dr. Rekha and all the staff of Vardaan for taking good care of me during my whole stay in the Hospital.
Review by Philipino girl residing in UAE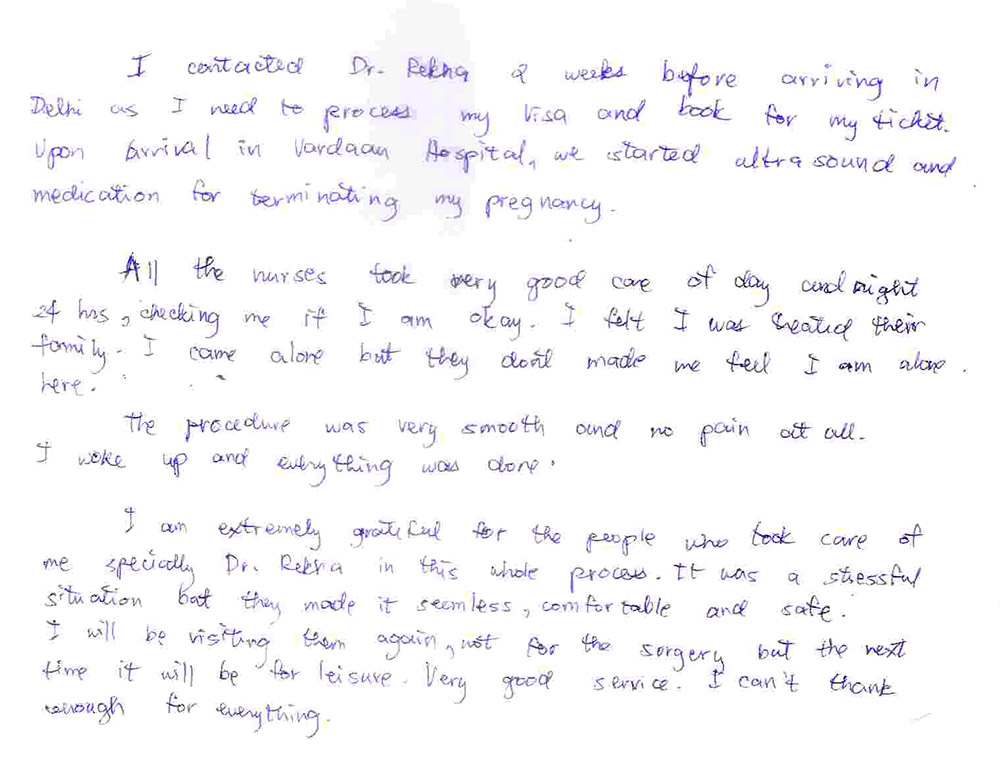 I contacted Dr. Rekha Khandelwal 2 weeks before arriving in Delhi as I need to process my visa and book for my tickets upon arrival in Vardaan hospital, we started ultrasound and medication for terminating my pregnancy.
All the nurses took very good care of day and night 24 hrs, checking me I am okay or not. I felt I was treated like their own family. I came alone but they don't make me feel I am alone here.
The procedure was very smooth and no pain at all. I woke up and everything was done.
I am extremely grateful for the people who took care of me specially Dr.Rekha in this whole process. It was a stressful situation but they made it seamless, comfortable and safe.
I will be visiting them again, not for the surgery but the next time it will be for leisure. Very good service. I can't thank enough for everything.
I wanted to share my experience in hope to provide comfort to anyone that is in the same position I recently was
After having my first abortion in the UK at 7weeks by the medicinal process, I was absolutely dreading to go through the abortion process again and having to face the same pain I endured the first time.
I went on the website and found Dr Rekha's Whatsapp number, where I was able to speak to her directly. Dr Rekha helped me understand suction evacuation process and answered all my questions without any hesitation.
I was so scared and an emotional wreck from the moment I stepped foot in the hospital but Dr Rekha could not have been more kind and reassuring which really helped me feel calm and comfortable
I arrived at the hospital at 11am straight from the airport and had some blood tests carried out and USG to ensure everything was ok before the procedure.
After that I was given some tablets to help opening of the cervix and to then not eat or drink as my procedure would take place around 5pm. From the time of taking the tablets and my procedure I slept in a comfortable room which the helpful staff made for me.
From the time I was put under general anesthetic to when I woke up around 2 hrs later, I did not have a clue when and how the procedure was done! It was all so quick and I did not feel any pain afterwards whatsoever, apart from slight stomach cramps which was much more bearable then my last experience!
My abortion experience this time was 10x better due to the process and confidence Dr Rekha showcased. I felt so comfortable with Dr Rekha and can't thank her enough for everything.
Having an Abortion is a very difficult time for any woman and it's so important to choose the right hospital and doctor to ease your experience.
Thank you so much Dr Rekha and Vardaan Hospital!"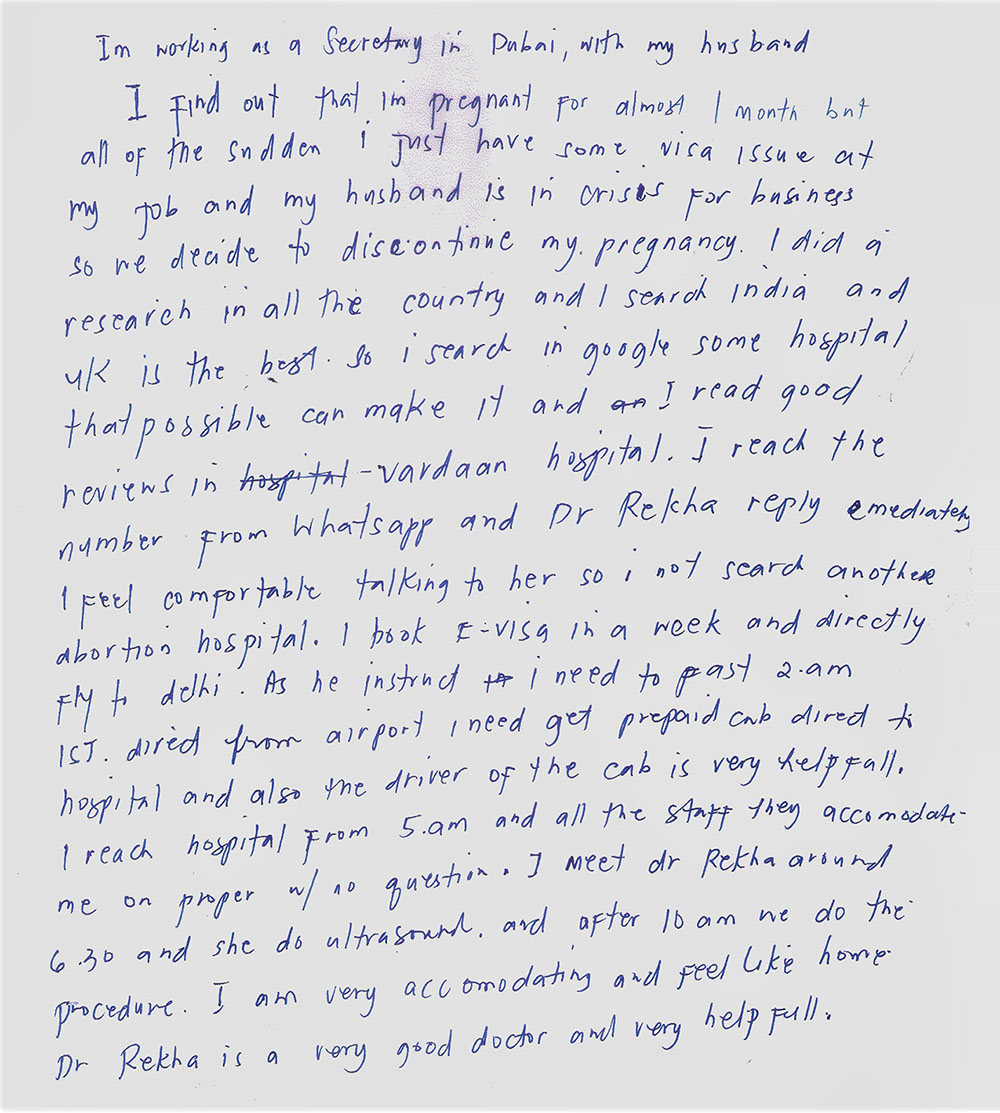 I am working as a secretary in Dubai, with my husband. I find that I am pregnant for almost one month but all of the sudden I just have some visa issue at my job and my husband is in crisis for business so we decide to discontinue my pregnancy. I did a research in all the county and search India and UK is the best. So I search in google some hospital that possible can make it and I read good review in Vardaan Hospital. I reach the number from WhatsApp and Dr. Rekha reply immediately I feel comfortable talking to her so I not search another abortion hospital. I book E visa in a week and directly fly to Delhi. As she instruct I need to fast 2.00 AM IST. Direct from airport I need get prepaid cab direct to hospital and also the driver of the cab is very helpful. I reach hospital from 5.00 AM and all the staff they accommodate me with no question. I meet Dr. Rekha around 6.30 AM and she do ultrasound and after 10.00 AM we do the procedure. I am very accommodating and feel like home Dr. Rekha is a very good doctor and very helpful.
Note received from a Philippines girl residing in UAE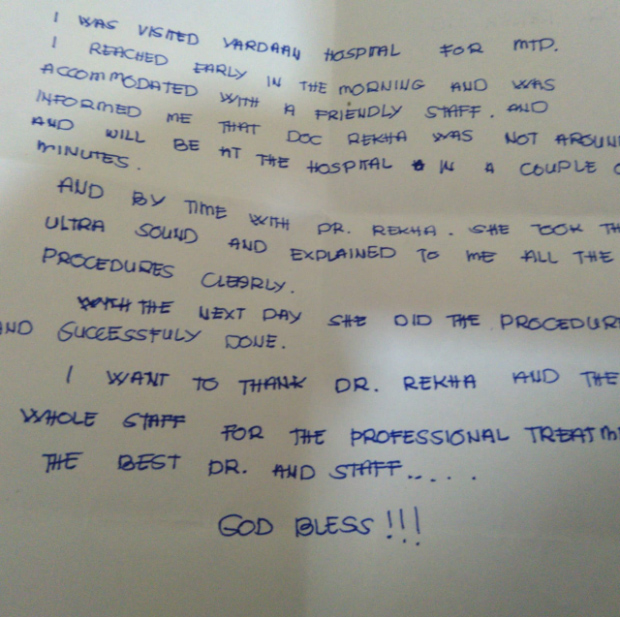 Abortion Review by Philippines Girl
It was a shock to me when I came to know that I was pregnant. I had to take the difficult decision of getting an abortion as I had just started a new career in Dubai after coming from Philippines. With the help from my boyfriend I took the decision of termination of pregnancy but now the dilemma was where to get the procedure done as there were two alternatives, India or UK. I was very comfortable with the Indian doctors in Dubai so I took the decision to come to India.
We discovered Vardaan Hospital for safe and legal abortion on the net and got in touch with the gynaecologist, Dr. Rekha on Whatsapp. She explained the entire procedure in great detail and patiently answered my queries. She suggested that I apply for online visa, which I did. I was able to book my tickets and my hotel within 7 days.
After a comfortable flight, I took a prepaid cab and arrived in the hospital around 6.30 am. Dr. Rekha had already instructed me not to eat after 3.00 am IST. In the hospital I was received by the duty doctor and nurse. They took a blood sample and prepared me for USG. The blood samples were sent for urgent testing. Dr. Rekha arrived around 7.30 am. I felt very comfortable with her as she has a very comforting personality. She did my USG and patiently answered all my queries and prepared me for the procedure. I was posted for the procedure under USG guidance at 10.00 am. By that time the medications started having their effect and I was experiencing slight discomfort in the abdomen.
I was shifted to the Operation Theatre and the pleasing anaesthesiologist greeted me. Operation room is very good. It has all conceivable medical equipments and very quiet and sterile. I was given a short general anaesthesia and I did not even know when my procedure got over. It was an absolutely comfortable feeling. I was shifted to the room and slept peacefully for 2 hours. Later I had some juice. I was helped to change and walk. Within 1 hour I was ready to go back to my hotel.
I could not believe that the procedure was over within 8 hours of my arrival and I was so comfortable!
The staff helped me arrange a cab for sightseeing the next day and from there I drove straight to the airport and reached home safely.
Thanks to them I don't want this to happen to me again but now I know where to go for any medical problem.
Overall the experience was nice.
I thank the staff for all the help and Dr. Rekha for her professional services.
Abortion Review by Canadian Girl of Indian Origin
I am a Canadian girl of Indian origin staying in UAE. For confidentiality purposes, I cannot disclose my name, but writing my experience would definitely help other people, who accidentally have unwanted pregnancy.
My advice is that always has safe sex and use contraceptives so that you do not have to face a difficult situation, like I did!
I was very young when I left Canada and came to UAE .Abu dhabi has a very good social life and while attending one of these parties I got physically involved and later discovered that I was pregnant!
I confided in my friends and came to know that in UAE, it is a crime for an unmarried girl to get pregnant. Also my parents would be shocked to hear this. Going to Canada or UK was out of question for me.
I searched for options. I did an internet search. I contacted my friends who were in a similar situation. Most of them had been to India. They gave me contacts and one of them strongly recommended Vardaan hospital in Delhi where legal abortion procedure is available. I was told that the procedure is possible in one day. That's what I wanted.
I emailed them and in no time they gave me the Whatsapp no.of Dr. Rekha. She answered all my questions very promptly and clearly including the total expenses.
I connected for the visa at the Indian consulate and was allowed single entry visa for India in 3 days time. I booked my tickets and on an Emirates flight to Delhi. I took a prepaid cab from airport as advised. The cab was comfortable and was value for money.
I was fasting as advised by Dr.Rekha .As soon as I reached the hospital, I was greeted by the courteous staff. The staff seemed to be familiar with the steps for procedure and promptly conducted my blood tests and prepared me for USG.
I met Dr. Rekha, a very pleasant and confident lady doctor. She explained the procedure to me and I was posted for the procedure at 10.00am.
The operation theatre was nice and clean and fully equipped. As I was travelling alone, I had all sorts of wild thoughts coming in my mind, but was put at ease by the reassuring doctors A list was made of my belongings and valuables and kept in safe custody.
I don't even know when the procedure was completed. I woke up in my room. I stayed there for 3 hours and was given juice after the procedure.
As I was to travel the next day I was advised by Dr. Rekha to continue staying in the hospital. In the evening, when I felt all right I was escorted to the local market by the staff, where I did some shopping. My Indian friends had also asked for some sweets which I bought.
I want to specially mention the human touch, Dr. Rekha gave me. Actually while shopping I finished all my Indian currency and had no money left for the cab. She promptly paid the cab driver and refused to take foreign currency in exchange. God bless her.
We are still in touch on Whats app and it is a great feeling.
British expat
UAE
Sonam K January 2017
I am a Bhutanese girl. I came from Abu Dhabi to Vardaan Hospital as I suspected that I was pregnant. I appreciate the honest opinion given by you that I was not pregnant but I had hormonal problems. You gave me sincere advice and appropriate medicines and I am fine now. Thanks for not doing any procedure on me and saving me money. Thanks again Dr Rekha for your professional approach
Abortion and hospital review by English Expat in UAE
I am an English expat woman living in dubai, I recently visited vardaan hospital for termination of pregnancy,when I arrived at the hospital , I was told to wait in the waiting area whilst they put clean sheets onto my bed then I was able to rest in there with my partner until my procedure time.The staff were very kind and I would recommend this place to any woman who are in the same situation as I was.
I would also add that last time few years ago I had a similar problem and I landed in a country where after reaching there I found that the procedure was not legal. I had to pay a lot of money and the procedure was performed in a unauthorised place.Please ensure that you go to a proper place