Dr. R.K. Khandelwal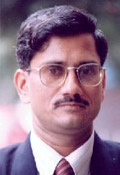 Dr. R.K. Khandelwal, our Consultant Paediatrician, is a post-graduate from S.N. Medical College, Agra.
He has been in practice since 1981 and has vast experience in the field of Neonatology. He runs a Level II nursery in the hospital which he plans to expand shortly. He is an ardent advocate of breast-feeding.
He is also a Director of Vardaan and is also involved with the day-to-day administration of the hospital.