Chairman's Message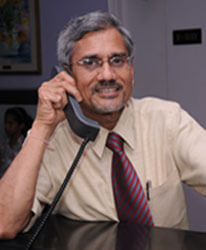 Welcome to the Vardaan Hospital site.
Vardaan Hospital has been running successfully since 1996. Being a patient-friendly hospital we aim to give the best medical care at an affordable cost. Right from the inception we have endeavored to regularly keep up with the latest best practices in the medical field. We keep upgrading our fully equipped operation theatre which has been extensively used by senior surgeons like Prof. S. K. Kacker, ENT surgeon, ex-Director, AIIMS, New Delhi and Prof. Kamla Sharma, former head of department of Obstetrics and Gynaecology, Maulana Azad Medical College, Delhi.
The elderly population is ever increasing. Visualizing their needs a day care centre was started in 1999 which was inaugurated by Smt. Shiela Dikshit, Chief Minister of Delhi. Over the years this centre was upgraded and started providing indoor care to medically-dependent senior citizens in association with our sister organizations.
Vardaan Hospital is also providing medical care to persons of the economically weaker section through Kamla Devi Charitable Trust.
Through this website we intend to keep you and ourselves updated with the latest in medicine and senior citizen care. We welcome your suggestions to help provide better medical care.
Thank you for reposing faith in us.
Dr. Rajiv K Khandelwal