Coccydynia
Pain in the region of the coccyx (tailbone) occurs more often in women; the patient often attributes the trouble to a minor injury like a kick or a fall. The symptoms persist indefinitely and are annoying rather than incapacitating.
The pain is worse when sitting than when standing, and sometimes when going upstairs, an action which involves the use of the muscles of the buttock. Sometimes the only complaint is that of a burning or pricking sensation.
Coccydynia is treated by infiltration with an anaesthetic agent locally, along with manipulation of the sacrococcygeal joint. This is followed by physiotherapy. Surgical excision of the coccyx is necessary only rarely.
Sciatica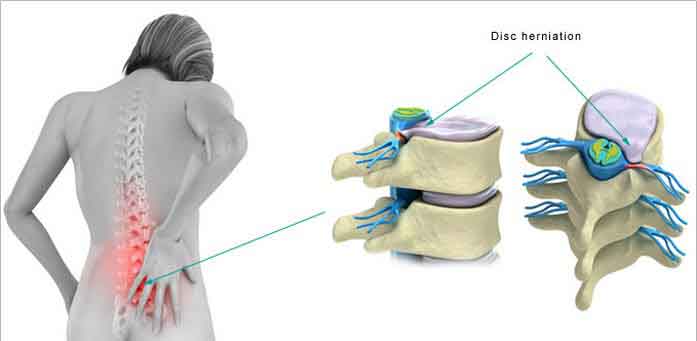 Disc Prolapse
Sciatica is a symptom produced as a rule by mechanical interference with the trunk of the sciatic nerve or its roots at any point subsequent to their emergence from the spinal cord. Although disc protrusions are responsible for a large proportion of sciatic pain, it is always necessary to exclude other possible causes namely,

Nerve Roots
In the Spinal Canal

Disc protrusion
Collapse of bodies of vertebrae
Tumours of nerve roots and meninges
Disturbed alignment of spinal joints

In the Pelvis

Primary tumours of pelvic organs
Local spread of malignant tumours
Abscesses

Radiculitis
"Pseudo" sciatica, which is a complaint in which there is no direct interference with the nerve roots but pain is felt in the peripheral distribution of the sciatic nerve. This pain is not increased on coughing or sneezing.